SOLID WOOD COIL EDGING
Solid Wood Coil Edging does mean that it is 'Solid Wood' and not laminated veneers as in other similar products.
The coil is produced in two standard thickness of 2.0mm and 2.5mm and to tolerances of +/- 0.1mm which allows panels to be lipped accurately with no need for re-machining to size after lipping. All joints in the length of this exciting new product are mirrored so they are virtually invisible to the naked eye and the face of the coil has a sanded finish.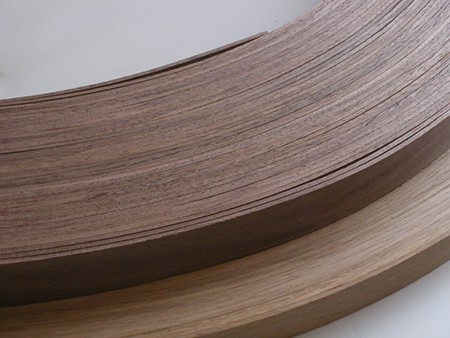 The advantage of being 'Solid Wood' means that it can be re-finished if damage occurs to the lipping without the risk of exposing a glue joint as in laminated coil. In addition, it allows a small radius or chamfer to be machined on the edge of a panel without revealing a series of glue joints and even a reeded effect can be machined on the face of the lip without any problem.
Solid wood coil edging is produced in standard sizes of 22mm, 28mm, 30mm, 34mm and 42mm. The widths of these standard sizes can be adjusted to suit a customer's particular lipping machine if specified, meaning that if less trim-off is required the width can be reduced from say 22mm to 21mm for no additional cost. The narrowest width we can produce is 10mm and the widest is 64mm.
All solid wood coil is produced from superior quality timber from sources which meet all the legal, sustainable and up to date requirements of our industry. We are FSC® certified and are able to supply FSC Mix 70% Solid Wood Coil in most species when the solid is available.